I don't even know how I got the invitation to the TechFair. I just know that I registered and it was on today, (Thursday 1 June 2023) so I went.
It reminds me of my job application at the IAEA. I knew I was not a recognized scientist, yet I knew I had a place at the United Nations and began applying for jobs. The recruiting materials they were using were targeting professional women. I knew I never finished any of my qualifications yet was extremely qualified. This was then also confirmed to me at the IAEA as I became the subject matter expert in my field and many of my colleagues thought I'd been at the UN for 30 years, or that I was a professional staff member. In fact, I came in after ten years at home with my children, ten years working in the Austrian economy, and more than ten years voluntary experience in Australia, America and New Zealand.
Do I fit in here?
So, again, today, I did not allow myself to be deterred by the questionnaire to register for the TechJob Fair. I did not feel comfortable in any of their categories. It led me to believe that I am not good enough, not suitable, don't belong in this area.
Baby Boomer
Yet, I consider myself a mediator for the baby boomers. I know many people my age and even younger, who are challenged by the most recent changes in communication technology.
I do not consider myself an expert, but I am still willing to learn. I also know that I do grasp a lot that many of my peers have already given up on and many are even becoming quite disturbed and frustrated, as known and tried systems, techniques and means of communication crumble and are replaced by dazzling new-fangled apps which appear to be beyond our comprehension.
The topics mentioned were also AI, ChatGPT and ethics. So even if I can't get my foot in the door, I wanted to know, what these guys are saying about all these things. As I said before, I'm willing to learn.
Female Photographers
I was happy to see a number of photographers, particularly females and eventually it occurred to me to get out my mobile phone. I began filming short clips. I assumed the event must be being recorded. I continued filming longer and longer clips as the content seemed more and more relevant to me.
Jan Juriga, Project Lead ViennaUP'23 at the Vienna Business Agency
The first clip I took was of Jan Juriga, Project Lead ViennaUP'23 at the Vienna Business Agency on
How to Get the Most Out of ViennaUP and Founding Your Business in Vienna. He spoke of funding for start ups. He also represented the sponsor of the event.
It took me back to the time just before I started working at the UN, when I had become an entrepreneur and entered the AMS "Jung Unternehmer" programme, which I then discarded when I received the job offer at the United Nations.
Welcome to Vienna https://youtu.be/j1_dPDC2fzw
The three moderators were all women: Dr. Ronke Babajide, Mirka Stillerova, and Yvonne Poul.
Clemens Auer, on Innovative Solutions
Next was Clemens Auer, on Innovative Solutions. Product Management Lead at Global Blue and Strategic Technology and Payment Partner, Customs & Refund Point.
Innovation is in the Heart of Our Services, Tech Jobs Fair https://youtu.be/eOtrq6SAZr4
As a baby boomer, already in retirement, it was fascinating for me to experience these guys and hear about their ten and fifteen years of experience in their respective sectors.
There was good input and presentation in between (my Toastmasters professional feedback!) relating to personal testimony.
Global Blue https://youtu.be/s_iJdegFwwI
And then we were introduced to Anton Wohlgemuth and Christian Hamboeck for a Panel Discussion on Ethical AI. Christian is Head of AI and Data Science at Viesure. Anton Founder and CTO at silana.
ChatGPT Ethical AI https://youtu.be/f6byydSNLKI
The issues of transparency and quality of input data were addressed.
Lable AI, Ethical AI https://youtu.be/ZKzaU-0GBSA
Data bias and algorithms, as noted by the very competent moderator,
Biased Data and algorithms: Ethical AI https://youtu.be/IvC8qsXCdPI
ChatGPT bias due to political orientation of sample populations was identified.
Political Bias: Ethical AI https://youtu.be/fbWFTJBChYY
Better Done Than Perfect
As my camera got wobbly I realized that I actually wanted to have a record of these discussions.
Christian underlined the ethical issues, which were of major concern to my values. He gave a brief explanation of causes of biased data. Anton agreed, it is all mathematics. Quantity and quality of data is significant.
Training Models for AI https://youtu.be/gwKZaIq1F74
Be curious was the tip from this panel discussion.
Next was Martina Ernst the founder of Salary Negotiations, Fair&Equal Pay, and Colourful Career on asking your price. She had worked in HR at Erste Bank and said she wants us to leave with four times the value.
Martina Ernst suggested delaying the salary discussion, or else make a higher proposal. Ask for "market relevant salary".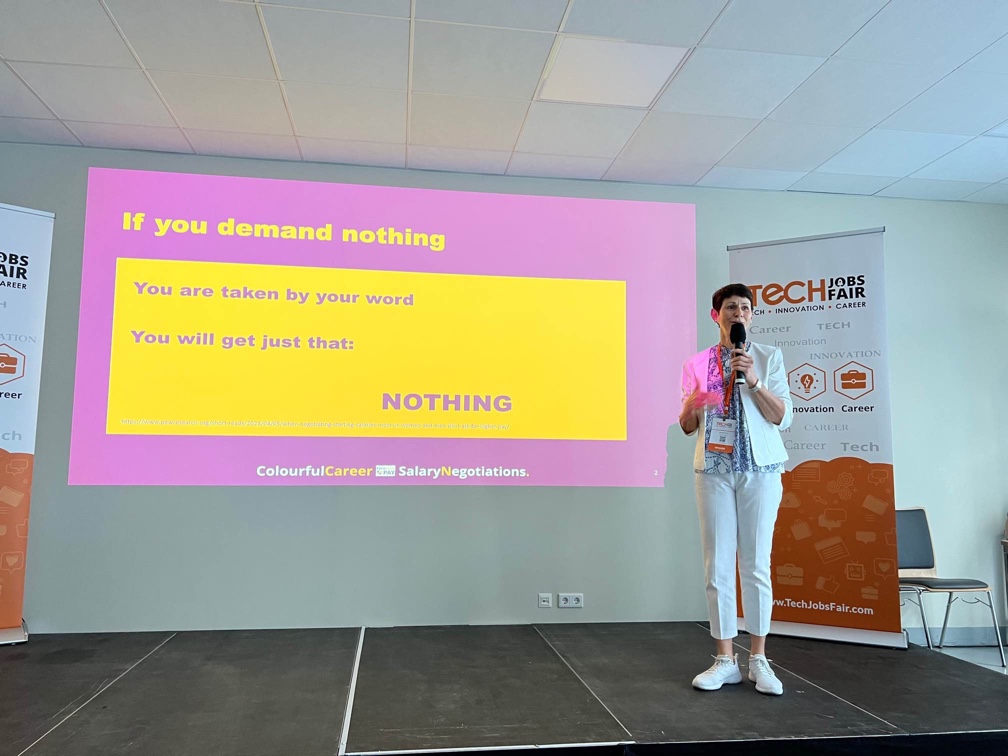 WKO
The Effects of AI on Tech Jobs was the topic from the WKO, the Chamber of Commerce in Austria, by Kambis Kohansal Vajargah.
https://youtu.be/ZRK5QzqPH_4
the female factor
Dorijan Dlaka, + Louise Gelling, introduced the female factor and addressed The Network Effect: Amplifying Career Success Through Connections.
https://youtu.be/vuhKPligFPo
As usual, this session too, was followed by questions and answers:
https://youtu.be/WZK_gPfPTCc
One question from the audience, which included many non-Austrians was about how to deal with narrow-mindedness.
https://youtu.be/oIVU8GzeOBY
The final comment I recorded was the statement from Dorijan proclaiming their goal to promote gender parity.
https://youtu.be/NRm0sC8ZFmE
This was the point that I really appreciated that despite initial feelings of inadequacy and not fitting in, I was glad that I attended this meeting. Now my message is again about bridge building not only between men and women, but young and old, Austrians and non-Austrians.
On my own bandwagon, my ultimate desire was to stay in touch and to prevent the digital divide from widening and to be a bridge for my generation, baby boomers, to the modern tech world.